London 2012: Paralympic cyclists test Brands Hatch track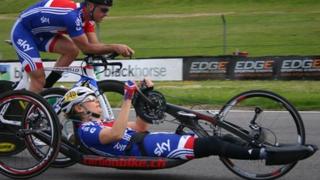 Athletes from around the world have taken part in a London 2012 Paralympic Games training day at Brands Hatch.
More than 150 cyclists from 27 nations tested the motor racing track, which will be used for the only Paralympic event in Kent.
The Swanley venue will host 32 Paralympic road cycling races and trials between 5 and 8 September.
Tandem pilot Craig MacLean, an Olympic silver medallist, and his visually impaired tandem-partner Anthony Kappes were two of the athletes who put the track through its paces on Tuesday.
Mr Maclean said: "When you see motor racing on telly you've no idea how big or small these hills are. It's a bit different when you are doing 25 miles an hour on a bike.
"I'm the sighted pilot, we're both pedalling so we're limited by each other. He's relying on me being fit and vice versa."
During the Paralympics, cyclists will complete laps of the 8km (5m) course, which encompasses the Brands Hatch circuit and surrounding roads.
The Games will also see the internationally renowned venue, which staged 12 Formula One Grand Prix between 1964 and 1986, return to its cycling heritage.
The farmland site was developed as a grass circuit in the 1920s, hosting its first cycle race in 1928.
'Challenging course'
Chris Hespe, of Kent County Council (KCC), said: "With Brands Hatch being established as a cycling circuit in the 1920s, it's really going back to its roots."
He added: "We've spent a long time working and negotiating with Locog for this.
"With 165 riders here you can sense that a big event is coming."
Mr Hespe said: "This is something really special, it's something that will never happen again and the cyclists are saying that this is probably the most challenging road cycling course they've ever ridden on.
"This is the largest cycling element of the London 2012 Games. There are going to be 225 athletes competing for 32 medals.
"There's a buzz in Kent, people feel they're part of something special, something unique, and they are part of creating history."
The local authority, Sevenoaks District Council, has put up new border signs to advertise the fact that it is hosting a London 2012 event.
'Business fears'
But the event has not been welcomed by everyone in the villages surrounding Brands Hatch.
The road closures that will be put in place during the Games have been criticised by business owners in West Kingsdown, who fear they will see a reduction in trade.
Parts of the A20, Scratchers Lane and Fawkham Road will be closed between 3 and 8 September.
Roger House from the Kent branch of the Federation of Small Businesses has previously said that although the event would bring many visitors, local firms would not make any money.
Julie Underhay, who runs a dental laboratory in West Kingsdown, also expects to have to close her business during the week, at a cost of thousands of pounds.
Sevenoaks District Council and KCC have held meetings with business owners to try to work out how they can operate while the road closures are in place.
Mr Hespe said: "Some businesses are concerned that there will be a reduction in trade but every effort is being made to mitigate against that.
"Having a global event on the doorstep and promoting the Sevenoaks and West Kingsdown area to a global audience should do those businesses good, long term."
Jill Davison, deputy leader of Sevenoaks District Council, added: "It puts us right on the map. There's going to be some disruption, but most of the residents are aware of it and we're giving them options on how to get around it."