Thanet head teacher's careers service fears as Connexions ends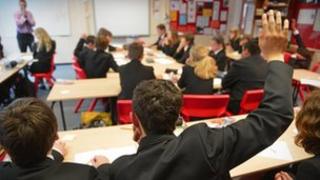 Changes to careers guidance could badly damage the prospects of young people in Thanet, an area of high unemployment, a Kent head teacher has said.
From September, the Connexions careers guidance service will not be provided in secondary schools.
The Department for Education said the system needed changing and schools could provide better advice to pupils.
But Paul Luxmore, head of two schools, said students would suffer and teachers would struggle to provide guidance.
Kent service rebranded
Mr Luxmore, executive head of King Ethelbert School, Birchington, and Dane Court Grammar School, Broadstairs, said students at King Ethelbert, in a socially-deprived area, needed accurate independent careers advice "more than any".
But he added: "I don't think teachers are well-suited to provide that themselves. I absolutely worry we will struggle to provide the independent advice they genuinely need."
Paul Chubb, executive director of Careers England, which represents careers education providers, said that the government formerly spent about £200m a year on the career guidance element of Connexions, but that had been cut to £4.7m a year to fund a telephone helpline and website.
He said the service was worth £45,000 a year per school but schools were not receiving extra money to provide careers guidance.
Craig Garton, Thanet Connexions team leader, said Kent Connexions had been rebranded as CXK and was still available to offer careers guidance to schools.
Schools had not been given money for careers guidance, but his staff were trying to help them offer an effective service, he added.
Schools 'know students'
Laura Sandys, Thanet South Conservative MP, said: "I think it's unfortunate that some schools don't feel that it is their responsibility to look and prepare young people for the world of work.
"If they could be more connected to the world of work as teachers then I think that they would be able to nurture young people towards a career and give those young people that sense of confidence."
A Department for Education spokesman said: "Young people need good quality careers advice - but the sad fact is that too much provision has been poor quality and patchy. That's why we needed to change it.
"We are giving schools the responsibility to provide careers guidance. They know their students best - so it is right that they should decide what provision is right for them and that they have complete control over their budgets to buy in the support that pupils need."
In a statement, Kent County Council said: "Plans have been in place for some time. Schools are already coming up with some great ways of helping students to choose the best options after they complete their GCSEs."