Appeal over Tunbridge Wells double killer 25 years on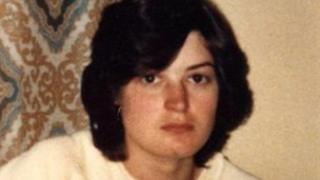 A couple whose daughter was murdered 25 years ago have said they do not want to die not knowing who killed her.
Wendy Knell was 25 years old when her beaten body was found at her home in Tunbridge Wells on 23 June 1987.
To mark the 25th anniversary of her death, a fresh appeal has been made to catch the murderer, who is also thought to have killed another woman.
Caroline Pierce, also from Tunbridge Wells, was found dead on Romney Marsh after disappearing in November 1987.
'One step away'
The 20-year-old was last been seen in Grosvenor Park.
Her body was discovered 40 miles away by a farm worker in a field on St Mary in the Marsh on 15 December.
Cold case detectives believe the same person is responsible for both murders and at a press conference Det Ch Insp Ron Vinson said they were "one step away" from catching who committed the crimes.
He said: "We are going to leave no stone unturned, we are still looking for the killer.
"The message has got to go to them - you should be spending every day looking over your shoulder because we are still looking and are going to find you."
Ms Knell's parents Pam and Bill Knell, who are both in their 70s and live in Tonbridge, appealed for information and described how they wanted to discover the truth before it was too late.
Mr Knell said: "Give us some closure in our lives, so things can be a little bit better for us."
Mrs Knell said: "We don't want to die not knowing who did it, we want to die knowing what happened to her."
Both victims worked in Camden Road in Tunbridge Wells and had been sexually assaulted, battered and strangled.
Keys missing
Ms Knell's body was found in her bed in her flat in Guildford Road after she failed to turn up for work.
Officers said there were no clear signs of forced entry to the flat in Guildford Road but her keys and diary were missing.
A footprint was found on a blouse in her bedsit which police believe belonged to the killer.
A set of keys were also found to be missing from the body of Miss Pierce.
Five years ago, detectives revealed advances in forensic science meant they had a full DNA profile of the killer but it did not match anyone on the national database.
Now police are using further technological breakthroughs by turning to advances in familial DNA to try to identify the murderer.