Third Kent County Council pay error revealed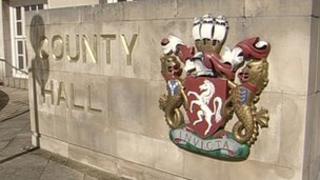 A third case of Kent County Council (KCC) paying thousands of pounds into wrong bank accounts has come to light.
In May, it was revealed two people wrongly received over £15,000 each and had been asked to pay the money back.
A third case has emerged in which care worker Sheila Ferris wrongly received payments of about £15,000 and £6,000.
Opposing Lib Dem and Labour members on the Tory-run council have called for an inquiry. KCC said it expected staff to check payments received.
Mrs Ferris said she returned the first wrong payment of over £15,000 to KCC, but after it happened a second time, in 2008, she told KCC she would keep the money until the problem had been fully investigated.
"You can make a mistake but not twice," she said.
"So I held on to it because I truly believe there should have been an inquiry."
She added: "They said they would take me to court and sent me the court papers."
KCC said money paid wrongly to Mrs Ferris had been recovered.
Last month, it was revealed that allowances intended for KCC leader Paul Carter totalling £21,398 had been paid to a vehicle maintenance fitter with the same name. KCC said human error was to blame.
It also emerged that Diane Warren, a retired care worker from Sutton-at-Hone, had been asked to repay £15,000 paid to her by mistake over 39 months. She said she was struggling to make the payments out of her pension. KCC said she could propose revised payments that she could afford.
Labour councillor Gordon Cowan said he wanted an inquiry to establish if there were any further cases, how much money was involved, and what the reasons were.
He said: "Human error normally occurs once. This is the third case that has come to light in a certain period of time and my concern is how many more cases are there?"
Liberal Democrat Councillor Trudy Dean said her political group had called for the issues to be looked at in-depth by KCC's scrutiny committee.
Andy Wood, KCC's corporate director of finance and procurement, said the local authority was clear about overpayments to staff.
He said: "We expect them to check their payments as, very occasionally, these errors do occur.
"It is common sense to say that if they are paid more than what has been agreed when employed, then they should query the payment."
He said KCC had put robust systems in place to make it harder for such situations to happen again. He said KCC efficiently paid 99.1% of staff correctly and on time.