Dental patients in Thanet told to 'pay or go'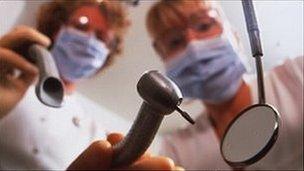 A Kent dental practice has told its NHS patients they must join a payment plan or find another dentist.
Integrated Dental Holdings (IDH) in Thanet, said it would provide NHS treatment until the end of August.
When the company took over Associated Dental Practices the Office of Fair Trading (OFT) ruled that they had too much of the local market share.
NHS Kent and Medway said all patients would be able to find alternative NHS dentists in Thanet.
Paula Smith from the trust said: "IDH gave three months' notice to NHS Kent and Medway on its contracts in Ramsgate and Sandwich on 31 May, which means they will provide care to NHS patients until 31 August.
"These contracts can be re-tendered by the PCT which is in the process of sourcing new providers to take over."
The OFT said IDH would need to give up some of its NHS contacts following the take-over.
Matt Jackson, of IDH, said: "We have written to all our patients explaining the situation and we will provide NHS treatment until the end of August.
"For those who chose to remain with us under the payment plan, we are keen to keep those costs as low as possible."
Related Internet Links
The BBC is not responsible for the content of external sites.