Footballer Mark McCammon takes Gillingham FC racism claim to tribunal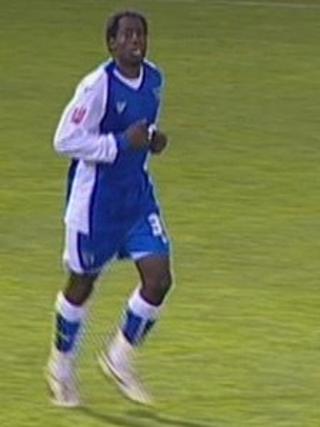 A black footballer has claimed he was dismissed by his football club after it racially discriminated against him.
Mark McCammon, 33, claims Gillingham FC refused him treatment for an injury, docked his wages, and fined him for not turning up during heavy snow.
At the start of his employment tribunal in Ashford, Kent, he alleged he and other black players at the club were treated differently from white players.
The League Two club has rejected the allegations.
In his witness statement, the striker alleged the club tried to "frustrate him out" by refusing to pay private medical bills to help him regain his fitness following injury when he still had eight months left on his contract.
Three-year contract
He said he was instead offered the choice of undergoing the same operation on the NHS rather than privately, which was "completely out of character" for a Football League club.
The former Charlton, Swindon, Millwall and Brighton player said: "The way the chairman approached the matter was that he saw my injury as a way to get rid of any financial obligations such as my wages he might have as a result of my contract."
He also claimed he and two other black players were ordered to come into the ground amid "treacherous", snowy driving conditions otherwise their wages would be docked, while some white players were told they were not required.
It resulted in a confrontation with manager Andy Hessenthaler, who Mr McCammon claimed lost his temper with him after he had accused him of being "racially intolerant" over the decision to order them in.
Mr McCammon was subsequently ordered to attend a disciplinary hearing and later received a letter saying he was dismissed for aggressive conduct towards the manager and racism, it is claimed.
'Aggressive manner'
In a statement to the tribunal, Gillingham FC chairman Paul Scally said Mr McCammon had been "aggressive, physically and verbally, after he confronted Hessenthaler in his room".
"All of us felt that [Mr McCammon's] actions were highly inappropriate, disrespectful and not what we expected from a professional footballer.
"You just cannot barge into a manager's room and act in a highly aggressive manner to the extent that witnesses believed that [Mr McCammon] was going to hit the manager."
The Barbados international striker signed a three-year contract with Gillingham in 2008, and was released three seasons later.
He claimed that after leaving the club, Gillingham FC tried to sabotage his career and "were effectively campaigning covertly against me".
Mr McCammon is suing the club and chairman Paul Scally for race discrimination, breach of contract, unfair dismissal and failure of his ex-employer to pay him.
The case is expected to last four days.