Ex-Gillingham player Mark McCammon's racism claim 'malicious'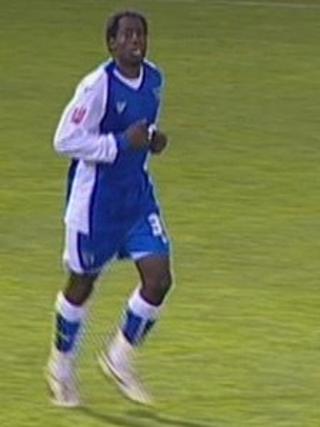 Claims a black footballer was racially discriminated against by his ex-club are "without foundation", an employment tribunal has heard.
Mark McCammon, 33, claims Gillingham FC refused to treat an injury, docked his wages, and fined him for not turning up for training during heavy snow.
Chairman Paul Scally told the hearing the League Two side had not faced an allegation of racism in 18 years.
Mr McCammon is claiming unfair dismissal at the tribunal, in Ashford.
Mr Scally said he was "absolutely confident" racism was not a feature of the club and any allegations would be taken seriously.
'Malicious allegations'
He suggested Mr McCammon "manufactured" the allegations to justify his actions a week before when it is said the player accused manager Andy Hessenthaler of being racist.
The incident, on November 30, 2010, happened after Mr McCammon and his two house-mates, who were also black, were ordered to go to the stadium amid widespread snow across south-east England when other players were not required.
Mr Scally told the tribunal in Ashford: "I'm absolutely confident and convinced that there is no racism at the club.
"The incident on November 30 where Mr McCammon said he made some allegations of racism were, I believe, made maliciously and were without foundation."
He stressed that the club takes issues of racism "seriously".
"[But] I didn't take [Mr McCammon's claim] seriously as I considered it to be a vindictive claim of racial discrimination," he told the hearing.
"I considered it to be a malicious, vindictive, wild and aggressive comment, not worthy of consideration as racism."
'Out of character'
In a written statement, the ex-Barbados international player had said that he and other black players at Gillingham FC were treated differently from white players.
He said the club had tried to "frustrate him out" by refusing to pay private medical bills to help him regain his fitness following injury when he still had eight months left on his contract.
He said he was instead offered the choice of undergoing the same operation on the NHS rather than privately, which was "completely out of character" for a Football League club.
Mr Scally said that as Mr McCammon did not feature in the manager's immediate plans, it was decided he would receive treatment on the NHS rather than privately.
He denied this represented a breach of contract, saying it was right to dock him two weeks' wages for going ahead with unauthorised treatment without the club's consent.
The case continues.