Girl, 15, chases away attackers in Ashford underpass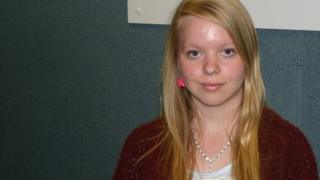 A 15-year-old has told of how she chased away three men who were beating another on the floor of an underpass.
Josie Wilding-Mitton was with her father, Roger, in Ashford when she saw the man, 21, being beaten.
She ran towards the attackers and shouted at them to leave the victim alone, which they did.
Kent Police said they believe the attackers stole the man's mobile phone and no arrests have yet been made.
Speaking to BBC Radio Kent, Miss Wilding-Mitton, said: "I looked up the road and saw one man and three brutal men kicking and punching him in the face and I thought, 'I'm not having this'.
'Disgusting attack'
"I shot up the hill and naturally shouted at them to tell them to clear off.
"My heart was beating and I was a bit shaky, but I felt good that I made them go and stop the attack, because it was disgusting to see."
Her father said he was "awestruck" by his daughter ending the attack, which happened at 21:40 BST on Saturday, under the Great Chart Bypass.
"I've always known that she's a very courageous young woman," he said.
"But the power and elegance she brought to this very serious occasion was just awe-striking.
"I was worried for both of us. I was ready to raise the white flag and hand over £20 I had just to make them leave us alone, but the men stopped in their tracks and listened to her."
'Punched in the face'
A spokesman for Kent Police said no arrests had been made.
He said: "A 21-year-old man was walking home when he was approached from behind and punched in the face which caused him to fall to the ground.
"He got back on his feet, saw three men, and was punched again. His mobile phone was stolen from his pocket. A passer-by approached and the men ran off.
"The man had been drinking in The Swan public house, and police are exploring the possibility that his attackers may have also been in there."