Mark Wallinger and Lindsay Seers make films about Margate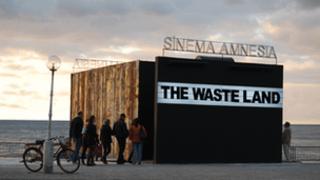 Films inspired by Margate made by two internationally-acclaimed artists are being shown in the town.
Turner-prize winning Mark Wallinger, and Lindsay Seers - who won the 2010 Derek Jarman Award - were commissioned by the Turner Contemporary gallery.
Their films consider Margate's identity, and include footage of the town.
The gallery said the films were being shown in unusual locations until 5 August.
Wallinger's film is being shown in a special viewing space called Sinema Amnesia which is overlooking the sea behind the gallery.
The film is called The Waste Land and is inspired by the 1922 poem of the same name by TS Eliot, which she partly wrote on Margate Sands.
'Saucy seaside'
Turner Contemporary said Seers's film, which is called Entangled², "reflected saucy seaside entertainments through questions of sexual identity and doubling".
Entangled² features the story of Hettie King and Vesta Tilley, two early 20th Century Music Hall male impersonators.
The film, which is on show in a secret location inside the Turner Contemporary, includes footage of the Theatre Royal and the Winter Gardens in Margate.