Sheerness Dock owner in pledge to secure Vestas replacement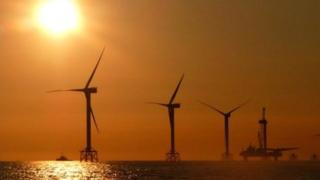 The owner of a port in Kent where a wind turbine plant was due to have been created has said it is "100% committed" to finding a replacement.
Last month the Danish firm Vestas said it would not proceed with the site at Sheerness Dock on the Isle of Sheppey.
It had been granted planning approval and was expected to create 2,000 jobs.
Mark Whitworth, chief executive of Peel Ports Group, said the Sheerness site was "absolutely tailor-made" for major renewables manufacturing.
'Boxes ticked'
"Everyone involved is bitterly disappointed, but our aim of delivering a world-class renewables manufacturing operation at Sheerness is very much alive," he said.
"There are very few locations which can compete with the offering at Sheerness for such significant manufacturing operations.
"Our confidence is based on a number of factors - ideal geographical location, superb marine facilities, availability of major parcels of land and, crucially, the recent approval by Swale Borough Council's planning committee.
"Indeed, the site ticks all the boxes from a planning, technical, commercial and legal standpoint, making it a very compelling proposition to other manufacturers."
Vestas, which supplies 40% of the world's offshore turbines, said the factory had been conditional on concrete orders, which had not been received.
However, it said its commitment to offshore wind power remained unchanged.