London 2012: Kent pensioner's torch plea to Boris Johnson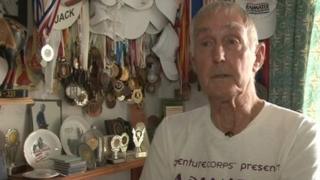 A Kent pensioner who has run one of world's toughest endurance races 12 times may get the chance to carry the Olympic torch following the intervention of the Mayor of London.
Jack Denness, 78, from Rochester, has raised more than £100,000 for charity after completing the 135-mile race through Death Valley, in California.
He applied to be a torchbearer, but was rejected.
Boris Johnson said he will consider contacting the Games organisers Locog.
Mr Denness said when he was rejected he initially accepted the decision.
He said: "My first reaction was 'fair enough, that's the way it goes'.
"But then these stories started coming out about the actual torch carriers, with some of them selling their torches, which is sacrilege."
During a meeting at City Hall, Conservative London Assembly Member Andrew Boff said: "Jack Denness, who's from Rochester in Kent, applied for a place but was rejected despite raising over £100,000 for charity by running."
Mr Johnson replied: "What I propose, I'm thinking out loud here, is that we get on to Locog and we see what else is coming down the track because I imagine that it is disappointing."
A spokeswoman for Locog said: "Should we hear from the mayor or Mr Denness, we would look into the circumstances surrounding the nomination and respond to them directly."