Protest over Thanet 'Aids' phone message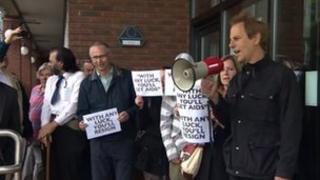 Protesters outside a Kent council meeting have called for the resignation of a Conservative councillor who left a homophobic message for a rival.
Ken Gregory received a police caution in May and was suspended from Thanet's Conservative group for six months.
He left a phone message saying "with a bit of luck you'll get Aids", but was cleared of misconduct by the council.
Mr Gregory said: "I hope [the protesters] had a good time. It won't bother me, I'm on holiday."
'Action taken'
Mr Gregory was cleared of misconduct after the council's standards committee decided he had acted in a private capacity when he left the mobile phone voice message for Independent Councillor John Worrow.
Mr Worrow, who is bisexual, said: "It is unbelievable. Council workers, people in other walks of life, would have got the sack straight away if they picked up the phone and said to a colleague 'with a bit of luck you'll get Aids'.
"You'd get fired - none of this nonsense saying you're in a private capacity."
Thanet Council's Conservative leader, Councillor Bob Bayford, said that it was for Mr Gregory to decide whether or not he should resign.
He said: "We take the view that Ken's behaviour fell short of the standard we would expect.
"We took action on that. We suspended Ken and I think that's our job done."