Kent County Show motorists turned away for second day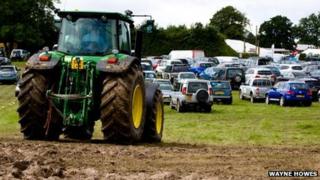 Organisers at the Kent County Show in Detling have been forced to turn motorists away for the second day because of muddy driving conditions.
They were being allowed into the County Showground earlier but organisers have said no more cars can enter the site.
Pedestrians can still enter, and booked tickets will be valid on Sunday.
Heavy overnight rain on Thursday disrupted the first day of the show and led to thousands of motorists being refused entry.
Four hundred tonnes of bark chipping was brought in to strengthen the car parks, although two remained closed on Saturday morning.
Organisers have recommended visitors use public transport if possible.
'Come tomorrow'
George Jessell, chairman of the Kent County Show, said events on the first day of the show had been unprecedented.
"We are 600ft [above sea level] on solid chalk. We've been here since 1964 and we've never closed for bad weather," he said.
Up to 25,000 people had been expected to attend the show on Friday, but only a fraction of that number were allowed in.
Mr Jessell said: "I am encouraging people if they can't come today because of the weather, come tomorrow [Sunday] when the weather forecast is much better."