Kent County Show parking restrictions remain on final day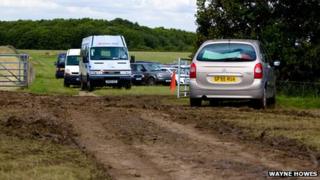 The final day of the Kent County Show has been held, but restrictions remained for motorists hoping to park following the unseasonable weather.
Organisers said parking was reserved for members of the Kent County Agricultural Society and for people who had bought tickets in advance.
People wishing to buy a ticket to enter the County Showground in Detling were asked to use public transport.
The show also closed earlier than previously advertised, at 16:00 BST.
Muddy driving conditions led to thousands of motorists being turned away from the showground on Friday and Saturday following days of heavy rainfall.
'Six-figure loss'
Four hundred tonnes of bark chipping was brought in to strengthen the car parks and access routes but the conditions meant it was not as effective as first hoped.
George Jessell, chairman of the Kent County Show, said the sites were still "very wet and very soggy".
He said motorists driving 4x4 vehicles would be allowed to enter the showground but would be put into "a very wet car park".
Mr Jessell said organisers had had enormous support from exhibitors and trade stand holders.
"They've praised us for keeping the show open.
"They fully understand that our gate-takings and our people into the show is dramatically down, and I'm afraid as a society we are going to suffer very heavily financially."
He said up to 25,000 people were expected each day, but only about 8,000 visited on the first day and about 9,000 on Saturday.
Mr Jessell said he expected the financial losses to be "well into six figures".