Kent County Show 'will continue' despite losses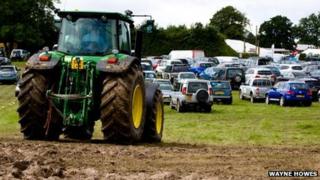 Organisers of the Kent County Show say the event will "definitely continue" despite making a financial loss.
Vehicles were turned away from the show on Friday, Saturday and Sunday after heavy rain made the car park areas too muddy to use.
In 2008 the show lost £300,000, and chairman George Jessell said the losses this year "could well be more than that".
He said organisers needed to make better contingency plans.
On Sunday, the three-day event also closed earlier than previously advertised, at 16:00 BST.
'Jolly well open'
Mr Jessell said: "The problem is that we don't own all our car parking areas. Some of it is owned by farmers and only used by us once a year.
"I'm not prepared to create great new car parks there, just for a three-day event."
Two hundred tonnes of bark chipping and about 100 tonnes of road planings were brought in to strengthen the car parks and access routes, but the conditions meant it was not as effective as first hoped.
Mr Jessell said: "We made the decision that we would jolly well open and give the traders a chance to trade."
Over the three days 50,000 people went to the show, compared to 67,000 in 2011.
"The show will definitely continue, that I can guarantee," he said.