Jools Holland gets University of Kent honorary degree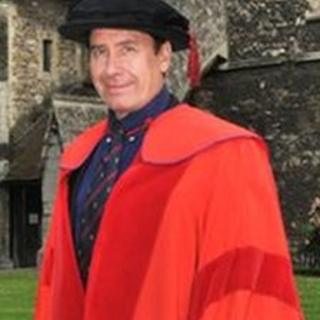 Musician and band leader Jools Holland has added a doctorate to his growing list of qualifications after receiving an honorary degree in Kent.
The former pop star, band-leader, TV and radio presenter, who is a deputy lieutenant of the county, was awarded his degree by the University of Kent.
And he received his honour at Rochester Cathedral, which he has helped maintain through fundraising concerts.
Also honoured were an ex-karate world champion and a London bishop.
East Londoner Holland spent his early years performing his music in pubs in the East End docks, before making his name with Squeeze in the late 1970s.
He went on to become a TV and radio favourite with his rhythm and blues orchestra, showcasing emerging musical talent as well as established stars.
As well as being a supporter of Rochester Cathedral, the new doctor of music has also raised money for HIV charities. He was honoured for his services to music and the arts.
He said: "My big concern was that I would become so big-headed that I couldn't get a hat to fit me.
"All these people have worked so hard to get their degrees and all I have done is play a bit of boogie-woogie."
Among the other honorary degrees awarded by the university's chancellor, Sir Robert Worcester, were former karate world champion Wayne Otto, who graduated from the university in 1992, and former Dean of Rochester the Rt Rev Adrian Newman, who is now Bishop of Stepney.