Olympic torch: Dame Kelly Holmes brings the flame to Tonbridge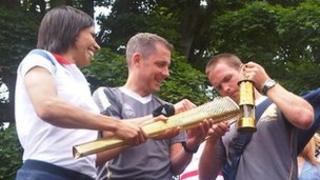 Dame Kelly Holmes has brought the Olympic flame to her home town in Kent which was not included in the route of the Olympic torch relay.
Dame Kelly said the event was organised after she told relay organisers Locog of "her disappointment" that Tonbridge had been left out of the relay.
The double Olympic gold medallist lit a 2012 torch in the grounds of the town's castle from a Davy lamp.
She paraded it past thousands of people who had gathered around the castle.
"I was very disappointed that Tonbridge was wasn't going to be part of the torch relay," said Dame Kelly.
"Olympic spirit for me is just massive and I think the flame has captured everyone's imagination with the torch relay.
"It's such a shame that my community and the people who supported me didn't get a sense of that spirit, so I went to Locog and explained my disappointment and said 'we really need to put on an event, we're going to have to put on an event'."
Thousands of people, who had gathered on the town's high street, cheered as Dame Kelly walked on to a platform at the end of the castle's grounds.
Homecoming parade
She held an Olympic torch, which was lit from a Davy lamp on the platform, and she paraded it around the grounds where 2,000 local schoolchildren has been invited.
In 2004, a homecoming parade was held in Tonbridge for Dame Kelly when she returned from the Olympics in Athens where she won gold in the 800m and 1500m.
Dame Kelly said to the crowd: " I will never forget the moment I came to Tonbridge after winning my two golds in Athens.
"I want to say a big thank you to all of you who have come out to support me then and now."
Sir John Stanley, MP for Tonbridge and Malling, said: "Dame Kelly, being a Tonbridge schoolgirl as she was, she has a very special place in the hearts of Tonbridge people.
"I applaud for her being so loyal to Tonbridge she is a national figure, an international figure but she always remembers her local roots."
In a speech after the lighting of the torch, Sir John said: "Dame Kelly, Tonbridge was in danger of being forgotten by the torch, thanks to you the torch has come to Tonbridge."