Cristobal Palacio trial: Miami wife 'watched ex-husband kill'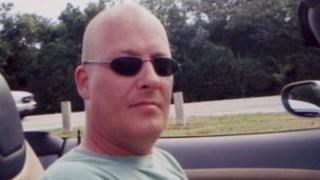 A woman has told a US court how she watched her ex-husband shoot and kill the man she married after her divorce.
Jennifer Winter was giving evidence in the trial of Cristobal Palacio, 46, who denies first degree murder, at the Miami-Dade court.
Paul Winter, 42, originally from Kent, died in Miami in front of his wife and her twins, then seven, in October 2008.
Mrs Winter said: "The defendant saw my husband. He looked like he'd won the lottery. He just smiled."
The jury has already been told Mr Winter, a graphic designer from Tunbridge Wells, was shot six times, including twice in the back.
Mr and Winter were at Mr Palacio's home in Kendall, a suburb of Miami, dropping off the twins for a court-appointed visit and were in their mother's van when the incident happened on the driveway, the court has heard.
'Fired in self-defence'
Mrs Winter said: "He walked up to my husband after he was laying face down and he shot him more in the back, after he was already dead - he shot him more in the back."
She wept as she described the moment after the shooting, and said: "Why did you do this? Why did you kill my husband? How could you do this? Then he just smiled like he was so proud of himself."
During cross-examination, Mr Palacio's lawyers questioned why she and Mr Winter did not just drive away.
Mrs Winter said: "Hindsight is 2020 isn't it? If I had known that my husband was going to be murdered by your client that day, I promise you we would have left."
Mr Palacio has claimed he fired in self-defence because he thought Mr Winter was reaching for a weapon.
Last week, Mr Palacio told the court that Mr Winter had tormented him for months, pulled a gun on him on two occasions, and often used profanity. Mr Palacio said the arguments usually happened during custody visits.
Mrs Winter has testified that her husband never owned a gun and also liked to avoid conflict. She went through a bitter divorce with Mr Palacio in 2007, the court has been told.
The case continues.