Maidstone IT firm's government deal 'may double workforce'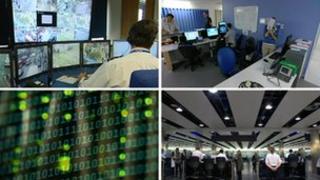 A Kent IT company hopes to double the size of its workforce after being named a preferred supplier for public sector IT contracts.
Maidstone-based ICOM, which employs about 50 staff, has become one of 29 firms able to provide some IT to the Public Services Network (PSN).
This means it will now be able to bid against electronics companies, including BT, Siemens and Virgin, to supply services such as data storage and CCTV.
The coalition government has said it wants to make it easier for small firms like ICOM to win a share of its business.
'Up against giants'
At the moment the public sector spends about £230bn a year buying in goods and services.
The government said it has saved £64.2m in the last year by using PSN frameworks to buy IT services and Prime Minister David Cameron's aspiration is to see 25% of those contracts awarded to small and medium sized firms.
ICOM's sales director Kevin Godfrey said: "We are up against some of the giants in the industry. We are good at what we do and want to take on the larger clients the larger people who are using the BT's of this world.
"We think we can deliver a better service at a better price and that is exactly what the government is looking for. Efficiencies and reduced costs."
ICOM is already a successful local firm that has been in business in Kent for 20 years, with a multi-million pound turnover.
Mr Godfrey said the £50,000 they spent on their bid for the contract had already reaped benefits, securing the firm "spin-off work" as a result.
Champagne toast
The Federation of Small Businesses (FSB) said the government understood that more could be done to encourage other firms to engage in this process.
"It's good for local economies because the money stays in the locality and it's good from the point of view of encouraging more businesses and start ups to grow," a spokesman said.
ICOM believes it will add more staff this year and perhaps double its numbers again in the next three to four years.
Mr Godfrey said staff had enjoyed a glass of champagne when they were told of the firm's success, but added they also knew that the hard work was probably only just beginning.