Thames Estuary airport row at Kent County Council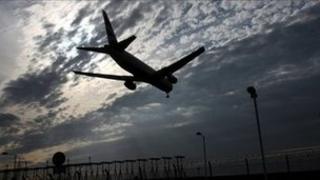 A Kent councillor has backed proposals for a Thames estuary airport after Kent County Council (KCC) opposed the plan.
Conservative councillor Peter Lake described KCC's support for Gatwick or Heathrow expansion as "madness".
Mr Lake, who represents Sevenoaks South, said west Kent was already on the Gatwick flight path and Gatwick expansion would mean an extra burden.
KCC said the estuary airport was not viable and the country needed to maximise use of existing airports.
Two plans have been put forward for Thames estuary airports - one on an artificial island, known as "Boris Island" because it has been backed by London Mayor Boris Johnson, and another by architect Norman Foster, who has proposed building a £50bn airport on the Isle of Grain.
In May, KCC published a report called Bold Steps for Aviation which called for a high-speed rail link between Gatwick and Heathrow, a second runway at Gatwick, and development of existing regional airports. It also recommended Thames Estuary airport proposals were not progressed further.
'Unviable and unrealistic'
Mr Lake said: "I'm keen on an estuary airport because I think it is a viable option and it's something that we really need in the South East."
He said people in west Kent were "already devastated" by Gatwick flights over the area and, when asked about the effect of an estuary airport on residents in Medway and on the Isle of Grain, he said: "We want to share the burden."
A KCC statement said: "We consider the estuary airport unviable and unrealistic.
"Bold Steps for Aviation is a discussion document that looks at viable and do-able alternatives, which provide options to maintain the country's international competitiveness in the years ahead."
Both KCC and Mr Lake have called for greater use of Manston airport as a short-term solution to the need for more air capacity.
On Tuesday, a voluntary group in east Kent, called Why Not Manston, launched a website calling for Manston to become a major South East airport and help to relieve strain on other airports.