'Virtual' courts rolled out across Kent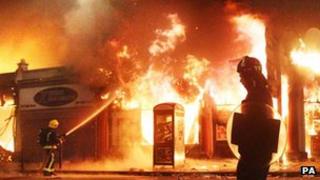 A video link allowing lawyers, defendants and magistrates to communicate without being in the same court has been rolled out across Kent.
The technology, piloted in Medway, also allows witnesses to give evidence from a police station.
Some lawyers are concerned they will be unable to properly consult with clients in confidence, but police say it will speed up justice and save money.
Justice minister Nick Herbert said it would make the system more efficient.
Detective Inspector Bob Platt, the officer in charge of the technology, said: "We've got seven custody suites equipped with the video technology, and up to five other sites people can give evidence from.
"Instead of moving those prisoners using prison contractors we can actually save that spend by making them appear by video link."
He also said the introduction of 24-hour courts following last summer's London riots had prompted Kent to consider introducing evening courts.
"It's about using our estate more effectively and removing the need to keep prisoners overnight in our custody suite," he said.
"If we charge someone in the afternoon, we now keep them in custody suites overnight waiting for the court to sit.
"If we can be more efficient and have an evening court, we could deal with that process much slicker."
Virtual courts, first used in May 2009, allow defendants charged in a police station to have their first hearing held via a video link from the magistrates' court.
If they plead guilty, sentencing can take place on the same day.
The same equipment allows witnesses to give evidence in court from a police station - a system known as "live links".
After seeing the system in action in Kent, justice minister Nick Herbert said virtual courts would "ensure crimes are dealt with more quickly and effectively".
But Luke Myer, a solicitor from Chatham-based law firm Robin Murray Solicitors, warned defendants would have to spend even longer in custody than normal.
He said a delay in justice meant justice being denied.
"They [defendants] would normally have been produced live before the court... because they're on the virtual court system they spend even longer in custody before their court hearing.
"That's an issue in relation to logistics because the police, quite frankly, do not have enough staff to run the virtual courts from the police station."
He said he did not feel he could adequately represent a client he had not met first-hand.
He also warned that pushing to deal with cases within two hours risked defendants not getting proper legal advice.