Panda breeding plan at Port Lympne animal park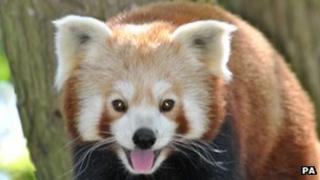 Animal park keepers in Kent are hoping to create a new generation of red pandas after shipping in a female from Copenhagen to join its lone male.
Wanmei has joined Tiang Ming at Port Lympne Wild Animal Park near Hythe in the hope that the pair will breed.
Director Adrian Harland said Tiang Ming seemed "chuffed" to have company in his treetop hideaways.
The bushy-tailed mammals live in the forests of south-western China, the Himalayas and Nepal.
Mr Harland said: "Tiang Ming has been living the life of a contented bachelor for the past few years.
"We always hoped that a suitable female would be found to keep him company amongst the trees, bamboo and hideaways in his new home.
"I'm so pleased that Wanmei has joined him and although she is bossing him about at the moment, I have high hopes that a relationship will blossom."
With a population of around 10,000, the species is classified as "vulnerable".