Faversham pedestrian scheme 'to bring cafe culture'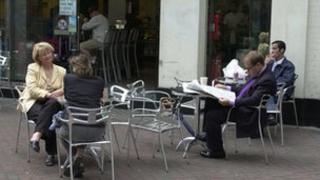 A nine-month trial to extend a pedestrian scheme on Fridays in a Faversham town centre has begun amid objections from traders.
Shops will be able to take deliveries in the mornings and evenings on pedestrianised days but said that they make deliveries to customers all day.
Swale Borough Council has said businesses will need to be flexible and the move could boost trade in the area.
The town centre in east Kent is already pedestrianised on Saturdays.
If successful, the scheme could also operate on Tuesdays.
Swale councillor David Simmons, who is also the Mayor of Faversham, said the general public had supported the move because would improve the atmosphere in the town and make it safer and easier to go shopping.
'Will help retail'
He said: "I think it's important that businesses adapt to the changing circumstances because obviously they are going to have to reorganise their deliveries to come before 10:00 in the morning or after 16:00 , but I don't think that is impossible.
"I think it will actually in the long run help the retailers and it will certainly help the cafes and restaurants, and it will be good for the visitors."
Debbie Holland, from Baldie Butchers, said provision had been made for shops to receive deliveries but not to send deliveries out.
She said: It's been suggested that we park in the main car park and carry the orders through the town, but it is 200 metres and that is a long way for heavy deliveries."
She said many shops could not wait for months to see if the trial was successful and added: "Shops in the town can't afford to lose any customers at all."
A Swale council report said Faversham Town Council supported the scheme, the majority of people in Faversham had wanted closure on market days, the town's "cafe culture" was important, and businesses would need to be flexible about deliveries.
The scheme is due to be reviewed after six months.