Medway Council in legal bid to ban payday loan shops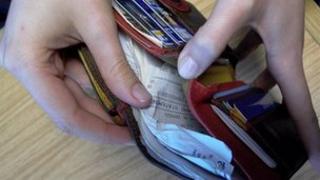 A bid to stop payday lenders setting up shop in Medway will see the council ask the government to change planning laws.
Medway councillor Vince Maple said 23 shops in Chatham and Gillingham had helped to drive up local debt.
Mr Maple was part of an all-party task group that recommended the council request the planning law change. A report will be considered on Wednesday.
According to Medway citizen's advice bureau, the average person seeking their help is £43,000 in debt.
'Easy credit'
Mr Maple said: "One of the things that has clearly added to this problem is the high level of payday lenders in our high streets.
"It is very easy accessible credit and if you look at the report there are some examples where people have used 10 or 12 different providers and we are saying that's wrong."
He said the council wanted any holder of a Consumer Credit Licence which is not also regulated by the Financial Services Authority to be placed in a new planning category.
Mr Maple said: "At the moment payday lenders are the same as pretty much any other financial institution.
"We're going to be writing to Eric Pickles and saying actually they should be different because they offer a different service."
The council wants more people to use credit unions as an alternative and is also calling for more financial education in schools.
John Lamidey, of the Consumer Financial Association which represents eight payday lenders, said that nationally payday loans accounted for £1.20 out of every £100 problem debt and were not a major problem.
Adding that the average cost of such loans was between £10 and £30 for every £100 borrowed, he said: "The vast majority of people do use these loans for exactly what they are, they are designed for short term cash flow help, they help you smooth out the peaks and troughs of your income and expenditure."
Mr Lamidey said a payday loan was cheaper than an unauthorised overdraft and the lenders were competing with the banks.