Kent County Council's Bishops Down school intake plan reversed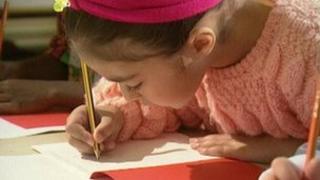 A decision to halve the number of pupils joining a Tunbridge Wells primary school has been overturned.
Kent County Council wanted to cut the Bishops Down Primary School intake from 60 to 30 because of lack of room.
For the past three years, the intake at the school has been up to 60 per year because of local demand for places.
The schools' adjudicator said parents needed reliable and clear information and school governors needed certainty. It ordered the decision to be reversed.
"The objection on which I have to rule concerns consultation and the clarity and fairness of the arrangements," the adjudicator's decision said.
"Parents have had no source of reliable information on what the admission arrangements at the school would be from year to year."
'Heavy investments'
It also said the school's governing body had lived with uncertainty about the intentions of the council and its temporary or permanent expansion for the past three years.
Councillor Mike Whiting, the council's cabinet member for education, said it had tried to expand the school permanently to 60 but a feasibility study said there was not enough space.
He said: "If there isn't physically room to put an additional class of entry on to a school site then I'm not quite sure how we're supposed to go about that."
Mr Whiting said expansion would double the population of the school to 420 pupils and it would be "trying to get a quart into a pint pot".
Across Tunbridge Wells, seven schools would be expanded at a cost of £10m next year to provide extra places, he added.
In April, the BBC revealed more than 800 pupils in Kent were denied their choice of primary schools with Maidstone, Sevenoaks, Thanet and Tunbridge Wells worst hit.
Mr Whiting said: "We're taking this problem seriously in Tunbridge Wells particularly. We're making heavy investments and unfortunately if the site isn't big enough you can't just simply enlarge the school."
He said: "We've written to the schools' adjudicator's office and we've written to the Department for Education to try to get some clarity on how they believe we can move forward in this particular instance.
"Those discussions will be happening very quickly in the next week or two."