Victimised Gillingham player Mark McCammon awarded £68,000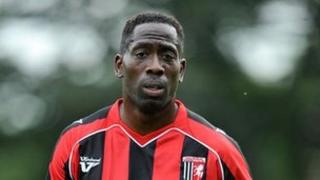 A black footballer has been awarded more than £68,000 after his dismissal by his club was ruled as unfair racial victimisation.
Mark McCammon, 33, said Gillingham FC refused him treatment for an injury, docked his wages and fined him for not turning up during heavy snow.
The striker claimed he and other black players at the club were treated differently from white players.
Club chairman Paul Scally said they might appeal against the verdict.
In a statement, the club said: "Further to a meeting with the Chairman and lawyers yesterday [Thursday], and having considered the judgement of the case for discrimination, it is likely a formal appeal will be lodged over the next week or so."
At the hearing, Mr McCammon said the club had tried to "frustrate him out" by refusing to pay private medical bills to help him regain his fitness following injury when he still had eight months left on his contract.
He said he was instead offered the choice of undergoing the same operation on the NHS rather than privately, which was "completely out of character" for a Football League club, he said.
He also claimed he and two other black players were ordered to come into the ground amid "treacherous" snowy driving conditions and were told their wages would be docked if they did not, while some white players were told they were not required.
Mr Scally described Mr McCammon's allegations as being "made maliciously and without foundation".
The Barbados international forward signed a three-year contract with League Two club Gillingham in 2008 and was released three seasons later.
In October 2011 he signed with Conference side, Braintree Town and was loaned to Lincoln City in March.