K College to cut up to 145 jobs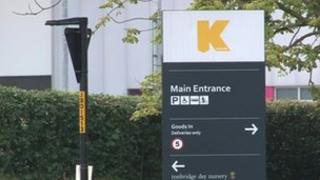 Up to 145 jobs could be cut at the largest college in Kent, two years after it was formed following a merger.
K College is blaming falling student numbers and the cost of running six campuses in Ashford, Dover, Folkestone, Tonbridge and Tunbridge Wells.
A 90-day consultation has begun with staff on the proposed cuts to 110 full-time and a number of part-time posts.
"This staffing restructure is necessary to ensure long-term stability of the college," said principal Bill Fearon.
The staff affected include lecturers, management and support workers.
The college was formed after a merger between West Kent and South Kent Colleges. Its campus at Tonbridge has undergone an £86m revamp.
A £25m campus is also being built on land opposite Ashford International railway station.
'High running costs'
"One of our biggest challenges is the financial structure of colleges of further education as we are funded for the number of students, but there is no allowance for the number and geographical spread of our campuses," said Mr Fearon.
"Running costs are obviously very high, particularly in the older campuses.
"This was a major issue for the previous South Kent College before the merger with West Kent College in 2010. There have also been substantial repairs necessary at former South Kent properties."
Mr Fearon said falling enrolments on some courses in Folkestone and Ashford was also having an impact on the K College budget.
"We are taking the opportunity to restructure our staffing while developing the curriculum to offer contemporary and popular courses for students, employers and communities in Ashford, Dover and Folkestone," he said.