Mendham Collection auction plan sparks campaign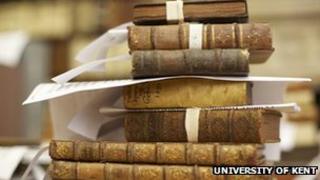 More than 3,000 people have signed a petition to stop the break-up of a rare collection of manuscripts and books.
The Mendham Collection has documents detailing early tensions between Catholics and Protestants.
It has been under the custodianship of Canterbury Cathedral and the University of Kent for nearly 30 years, but is due to be put up for auction.
"Despite the value to academics, it is not of practical value to our members," its owners, the Law Society, said.
In a statement, it said: "It has become increasingly difficult to justify the ongoing cost of maintaining these items which our members are very unlikely ever to study.
Worldwide support
"The Law Society initially raised the idea of the University of Kent and Canterbury purchasing the collection in a meeting.
"The decision has been taken to place certain items for sale, with an auction planned for November."
Dr Alixe Bovey, director of the university's centre for Medieval and Early Modern Studies, said there were fears the collection would be broken up and it was important that it remained intact and accessible to both scholars and members of the public.
She said signatories to the university's petition had come from people across the world.
"We don't have substantial sums of money... but I personally would be keen to try to raise money from private and public sources."
Dr Bovey said the university was almost at the stage where it could talk about the amounts of money involved.
"It would be wonderful if they remained with us in Canterbury. Our students make use of them, researchers who come to the cathedral to use their other collections use them all the time.
"But in a way the most important thing is that they remain together where ever that may be."