Margate Turner Contemporary's The Kiss draws 400,000 visitors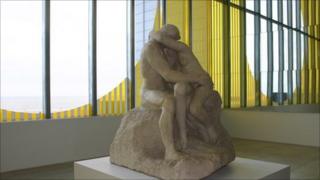 More than 400,000 visitors have seen Auguste Rodin's famous sculpture, The Kiss, since it went on display in Kent.
It was loaned to Margate's Turner Contemporary by the Tate last October and is on display until 2 September.
The gallery said it had proved a "huge hit" with visitors with a 4% increase in numbers compared to the year before.
Director Victoria Pomery said June and July had been particularly busy, with Tracey Emin's exhibition She Lay Down Deep Beneath the Sea also popular.
The exhibition of new works is the Margate artist's first in the gallery and was conceived especially for the town.
The Kiss is situated in front of the gallery's double height window, which looks out onto the sea.
The embracing couple come from a true 13th Century story of forbidden love, which was immortalised in Dante's Inferno and by many artists since.
Ms Pomery said many visitors "still seem surprised to find such an iconic work of art here in Margate".
The Kiss was voted the nation's favourite work of art in a 2003 poll.