English Channel swim bid for Rainham's Sophie Tills halted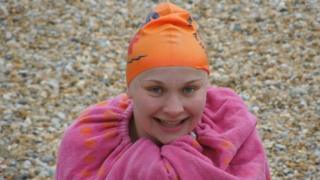 A 19-year-old who got into difficulties during a cross-Channel swimming attempt says she has no memory of being dragged to safety.
Sophie Tills, of Solomon Road, Rainham, was about three miles from France when her swim was stopped because of health concerns.
Ms Tills said: "They had to pull me out because they were worried I was suffering from hypothermia."
Irish man Paraic Casey died in July after falling ill during an attempt.
The Channel Swimming and Piloting Federation (CS&PF) said the French authorities believed 45-year-old Mr Casey suffered a heart attack.
'Really scary'
Ms Tills, who is a former MidKent College student, attempted the 21-mile challenge last Friday to raise funds for Marie Curie Cancer Care and the Make A Wish Foundation.
"Apparently I kept crashing into the boat - which is when they started to realise something was wrong - but I don't remember any of the last hour," she said.
"It must have been really scary for everyone but they took good care of me, dressing me and wrapping me up in a sleeping bag before I fell asleep in the boat. The next thing I remember was getting back home.
"I really enjoyed the swim at first but the longer it went on the colder the water got and the more I ached.
"It was a bit gutting I didn't reach France but I'm still really proud I got as far as I did."
CS&PF accompanies swimmers and is one of two regulatory bodies authorised to organise and assist swims and other crossings.
CS&PF secretary, Kevin Murphy, said: "Sophie made a brave attempt and was just over three miles off the French coast when she became disorientated.
"She had an experienced pilot and support team which included a first aid instructor.
"They were watching her closely and decided that she had had enough. She was taken from the water before there was any danger."
Mr Murphy said swimmers must undergo an extensive medical and have completed a swim of at least six hours in a water temperature of 16c or less before they were permitted to make an attempt.
He added: "The reason it is such an achievement is because it is a major physical challenge requiring huge determination to succeed but it also has a very good safety record.
"There have been less than half a dozen fatalities in the 137 years that it has been taking place."
Ms Tills said she thought another attempt was unlikely.
"I love swimming but the Channel is very hard to train for, so I think I'll leave it at that," she said.