Leonard Cohen moves Kent Hop Farm concerts to Wembley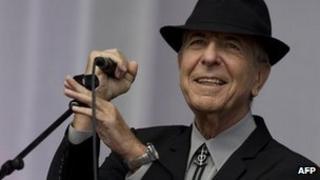 A Kent venue said it was disappointed after two concerts by singer-songwriter Leonard Cohen due to take place next month were moved to London.
The Canadian performer was to have held his two UK shows at the Hop Farm, Paddock Wood, on 8 and 9 September. They will now be at Wembley Arena.
Cohen's website says the Old Ideas world tour concerts have been moved "due to unforeseen circumstances".
"The decision was completely out of our hands," said a Hop Farm spokesman.
"We were informed this morning via a joint press release from Leonard Cohen's agent and the promoter that they had made the decision to move the venue from the Hop Farm up to Wembley.
"Unfortunately we haven't been given any information as to why.
"We are really disappointed. We were very much looking forward to welcoming Leonard to Kent."
Hop Farm ticket holders have been told to contact the ticket agents for a refund or new ticket.
"Ticket holders will be invited to an exclusive pre-sale to purchase tickets for the new Wembley Arena dates and to have first access to the best seats in the house," said Cohen's website.