P&O ferry crew fatigue 'poses danger' on Dover-Calais route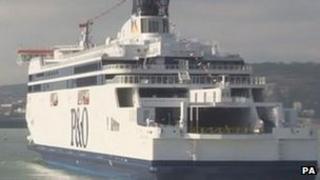 Almost half of staff on P&O ferries between Dover and Calais say their working hours pose a danger to them or their ship.
In a survey by Cardiff University almost one third of ferry crew members said they had been involved in a fatigue-related incident or accident.
Nearly three quarters of crew said there was no-one to replace them if they needed a break.
P&O said it would be addressing the issues raised by the survey.
The Centre of Occupational and Health Psychology at the university surveyed crews on the ferries working a one week on/one week off rota. Of the 900 questionnaires distributed in December, 491 were completed.
'Fatigue awareness'
At the time of the survey, P&O were considering introducing a two week on/two week off rota pattern. The company said this option was not now being pursued.
Over half said they felt sleepy at work two or three times a week, with one fifth feeling sleepy every day. Almost 89% said tiredness had led to some loss of concentration.
The report by Professor Andy Smith concluded that the major factors causing fatigue were working hours, length of duty, number of crossings and speed of turn-around at port.
A joint statement by the Nautilus, the RMT union and P&O said specific issues raised by the survey would be addressed and an audit into fatigue would continue, especially in those jobs which involved watch keeping.
A fatigue committee will be set up to "promote prevention and management of fatigue" with fatigue awareness training given to staff, the statement said.