Anders Behring Breivik verdict 'will allow some closure'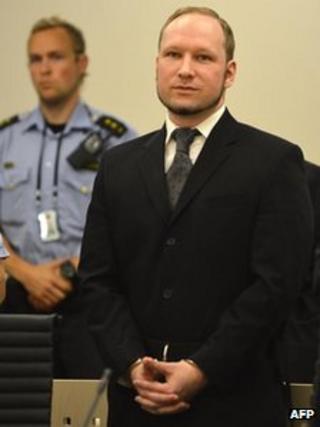 A Kent hospital chaplain whose nephew was killed by Anders Behring Breivik hopes his conviction will allow the victims' families to move on.
Breivik admitted killing 77 people and wounding more than 240 others when he bombed central Oslo and then opened fire on Utoeya island on 22 July 2011.
On Friday he was found to be sane and jailed for 21 years.
The Reverend Dr Paul Kirby's nephew Bendik Rosnaes Ellingsen, 18, was killed on Utoeya island.
Dr Kirby, who is head of chaplaincy services for East Kent Hospitals University NHS Foundation Trust, said the verdict and sentencing were what most of his family in Norway were "expecting and wanting".
He watched the sentencing with his Norwegian wife, Anne Rosnaes Kirby, as it was broadcast live from the courtroom in Oslo.
"It's not going to bring Bendik back. We miss Bendik terribly, he was a really great guy, a fun-loving character and it's not bringing him back.
"But I think what has happened today is that it has brought some measure of closure," he said.
"Just a few weeks ago my wife was back there on the first anniversary of the shooting for a church service in the parish church where the family live and today was the last thing that everybody was waiting for.
"Hopefully it's a milestone and that people can begin to move on from this point."
Breivik, 33, carried out the meticulously planned attack wearing a fake police uniform and methodically hunted down his victims.
He accused the governing Labour Party of promoting multiculturalism and endangering Norway's identity.
Some victims at the Labour Party youth camp on Utoeya island were shot in the head at point-blank range.
Dr Kirby said: "Going back a year now, or just over a year, when it happened we flew out straight away to be with the family.
"In my job in the hospital I deal with grief and bereavement everyday of my working life and I can say with hand on heart that I've never experienced this intensity of grief in a family before."