Canterbury Beaney museum to reopen after refurbishment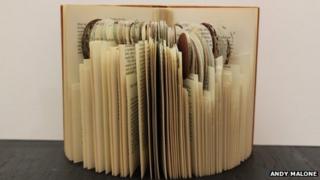 A museum in Canterbury is to reopen after a three-year £14m refurbishment.
The Beaney House of Art and Knowledge will show exhibitions of Artists' Books by students and staff from the University of Creative Arts (UCA).
Works from UCA Canterbury will be displayed alongside items from the museum's private collection.
The Beaney art museum and library in the heart of the city will house seven permanent galleries for use by artists and local groups.
Rebekah Taylor, archivist and special collections officer at UCA Canterbury, said: "Artists' Books are unique concepts which are closer to works of fine art and illustration than literature.
"They demonstrate unusual forms of narrative and graphic expression which make them a unique and exciting art form."
Beaney House reopens its doors to the public on 5 September.
During the restoration, archaeologists excavated the site which was once part of a Roman forum.
Artefacts found on the site included a Roman gold bracelet and bone artefacts from Norman times.