Maidstone Museum to get £324,000 school grant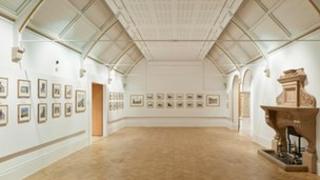 Maidstone Museum is to receive an estimated £324,000 grant from Arts Council England for projects aimed at improving access for school children.
As part of the award, Maidstone will link-up with the British Museum to display "world-famous artefacts".
Maidstone Museum will initially work with primary schools in the county before expanding its programme to secondary schools.
In total 10 museums around the UK are sharing £3.6m.
Simon Lace, Maidstone Museum manager, said it would receive £324,000 over three years.
"One of the aims is to get more of the national collections out into the regions.
"We have got to not just include school visits but also increase out-of-school visits - pupils coming back later under their own steam - so that we can demonstrate that there has been an engagement and benefit."
He hoped staff at other Kent museums could benefit from training, and the venture would lead to "a rolling programme of high-value, world-famous artefacts from the British Museum being displayed in Maidstone".