Tunbridge Wells 'shantytown' highlights poverty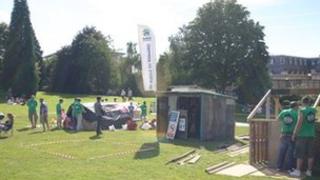 Makeshift homes have been built in a park in Kent to form a temporary shantytown aimed at highlighting the plight of people who live in poverty.
Shack Attack, in Calverley Grounds in Tunbridge Wells, was organised by the Habitat for Humanity charity.
Teams of three built the homes using scavenged materials, and raised money for families around the world who live in slum conditions.
The participants also slept in their homes overnight.
Each team was asked to raise £400 for the charity, and prizes were given for the most structurally sound and inventive shelter.
The international housing charity said about one in five people in the world lived in "poverty housing".