Restored V2 rocket to be displayed in Chatham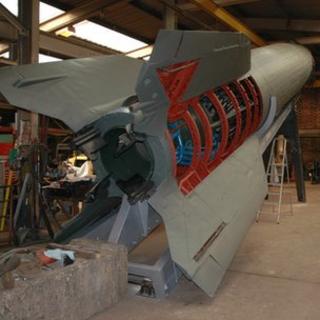 A rare V2 rocket from World War II is to go on display in Kent after over 50 years in storage.
More than 1,000 V2 rockets fell on Britain in the last two years of the war, killing nearly 3,000 people, but few exist today.
Catherine Byrne, deputy curator of the Royal Engineers Museum in Chatham, said it was a "monumental weapon".
She added: "It is one of five on display now in the UK and one of 20 across the world."
The Nazi armed V2s were among the most feared weapons of WWII. They were usually obliterated because of the speed with which they plunged to earth.
Ms Byrne said the history of the museum's V2 was sketchy.
"We believe it was picked up in the Netherlands in the chaos at the end of the war and brought back by the Royal Engineers," she said.
She said it had been stored at a number of Ministry of Defence bases since the 1940s, and was most recently kept in Chattenden.
'Save London'
The rocket was restored and painted in its original green by Borley Brothers engineering company in Cambridge.
Among those who worked on it was 92-year-old WWII bomber pilot, Harry Howe, who was involved in the bombing of the factory in Peenemunde where V2s were made, stopping production for more than six weeks.
Some of the crews he flew with survived only one mission, others up to 30.
Mr Howe said: "They said, 'If you don't knock it out tonight then you will go tomorrow night or the next night or the next night. If you can knock this out you can save London, which obviously we did."
The rocket will go on display from 15 September.