Apple crop down 20% in washout summer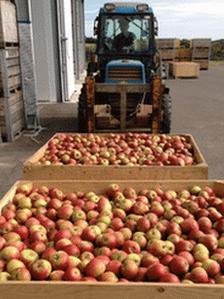 The wettest summer for 100 years has wiped out a fifth of Britain's apple crop, a growers' trade group has said.
British Apples and Pears said the rain kept bees in their hives which meant fewer trees were pollinated and apples were generally smaller than usual.
Chief executive Adrian Barlow said topsy-turvy temperatures and the wet conditions also delayed the picking season and caused more skin marking.
About 65% of all apples produced in Britain are grown in Kent.
"The rain has had a very considerable effect," Mr Barlow said.
"We had very warm weather in the second half of March and first half of April, which woke the seeks up to get them going, then cold, wet weather at the end of April and beginning of May.
"Trees should have been flowering but because the weather was so poor, pollination levels were very poor.
"There were very few insects flying around and temperatures were so low, pollen was not being produced."
He said the conditions caused more "russeting" and marking on the skins of the apples with less "class one" graded fruit.
The leading supermarkets have announced they will accept more skin-marked fruit this year than usual as a result.
A spokeswoman for Waitrose said: "Due to the poor British weather, a selection of this year's apples have skin imperfections.
"Waitrose will be sticking by the British apples and farmers who grew them, by stocking bags of weather damaged apples in shops again this year."
The apple picking season is now under way, delayed by around two or three weeks, Mr Barlow added.
Related Internet Links
The BBC is not responsible for the content of external sites.