Paedophile Gavin Smith sentenced for internet torture fantasy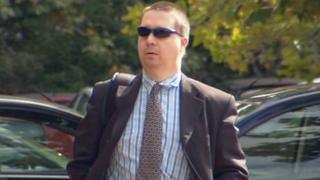 A convicted paedophile who discussed torturing and sexually abusing children over the internet has been given a three month suspended jail sentence.
Gavin Smith, 41, of Boleyn Way in Swanscombe, Kent, pleaded guilty at Maidstone Crown Court to nine offences of publishing obscene material.
Kent Police said he was charged over the internet chat in 2010, with the case going to court in November 2011.
The case collapsed but police and prosecutors successfully appealed.
Smith was brought back to court in July, leading to his guilty plea.
Det Insp David Shipley, from the public protection unit at Kent Police, said as a result of the case the Obscene Publications Act of 1959 can now be used for online offences where people engage in fantasy chat about the sexual abuse of children.
Smith was jailed for his part in the international "Wonderland" paedophile ring in 2001.
The computer engineer was then called Gavin Seagers, but changed his name.