Romney Marsh nuclear waste storage plant plan rejected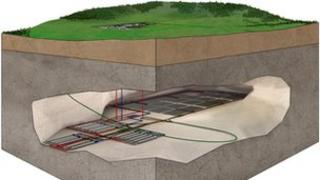 Plans to build a nuclear waste storage facility on Romney Marsh in Kent have been thrown out by Shepway council.
The final decision was taken by Conservative council leader Robert Bliss after councillors voted against the proposals on Wednesday.
The issue had split residents with 63% of people rejecting it in a survey.
Councillors voted 21 to 13 against formally expressing interest in the government's facility for the geological disposal of nuclear waste.
Supporters believed it would safeguard the economic future of the area after Dungeness Nuclear Power Station closes.
'More information'
The public gallery was packed with residents opposed to the scheme as the full council debated the waste plant on Wednesday evening.
Lydd Conservative councillor Victoria Dawson said members had been assured the proposal would not go ahead if the community was against it.
Fellow Conservative Councillor Susan Carey said: "We asked them a simple question - do you want us to go to the next stage or not - and the overwhelming majority of those who did respond said no and I think we have to listen to that."
But Lydd Conservative Tony Hills was among members who voted in favour.
"I think a lot of people didn't understand the question," he said.
"The question was do you want to find out more information? Like a lot of councillors I would like to find out more information and see what we are being offered.
"That is common sense, we need investment, we need jobs. They are not going to come out of fresh air so lets look at all that's on the table."
Kent County Council and neighbouring East Sussex County Council both opposed the plan.
The area is the site of Dungeness nuclear power station, where Dungeness A is being decommissioned and Dungeness B is due to stop generating power in 2018 or 2023.