Kent trafficking probe: 'Slave' worker arrest pair bailed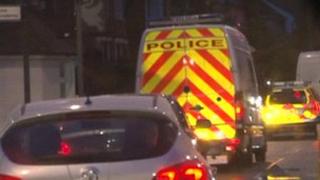 A man and a woman who were arrested in Kent over the alleged exploitation of Lithuanian workers have been released on bail pending further inquiries.
Kent Police arrested the man, 52, and the woman, 50, both from the Maidstone area, on Friday on suspicion of human trafficking for labour exploitation.
It followed claims that workers were being held in "slave-like" conditions and controlled through violence.
At least 29 men were identified as potential human trafficking victims.
Chicken catchers
The arrest warrant was executed on the offices of a licensed gangmaster in Maidstone by Kent Police working with the Gangmaster Licensing Authority (GLA) and UK Human Trafficking Centre (UKHTC).
Det Insp Keith Roberts said officers were continuing to work with the GLA and UKHTC to establish the full extent of the allegations and workers were being offered help and support.
Liam Vernon from the UKHTC said it had been alleged that the workers' conditions were "slave-like".
It had been claimed the men were being made to live in squalid conditions while working as chicken catchers for the food industry.
Chicken catchers are employed to grab several birds at a time and take them to their destination, because they cannot be herded.