Friends of the Earth concern over Kent 'Disneyland rival'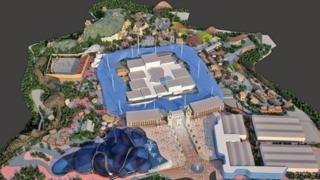 An environmental group has raised concerns over a £2bn entertainment resort proposed for Kent which would aim to rival Disneyland Paris.
Developers London Resort Company Holdings have been granted a licence from Paramount Pictures to use its name on a resort on Swanscombe Peninsula.
The company is now looking for investment for the project.
However, Gravesham Friends of the Earth has warned about flooding on the site near Dartford and a rise in traffic.
The developers have estimated the resort could create 27,000 jobs. Dartford and Gravesham borough councils said they supported the plan.
The 900-acre brownfield site is next to Ebbsfleet International station, which is 17 minutes from London St Pancras and two hours from Paris.
Judy Duffield, from Gravesham Friends of the Earth, said congestion on the A2 and Dartford Crossing would need to be addressed before the project was given the go-ahead.
'Flood plain'
"We need to encourage people to use public transport and the council needs to have a plan," she said.
"We also need to look at the issue of flooding. It is a flood plain and therefore we need to keep as much of the green area as possible."
Plans for the resort include Europe's "largest" indoor water park and a Hollywood-inspired theme park.
Roger Vickerman, a professor of economics at the University of Kent, said the site might not provide the economic regeneration needed in the area.
"We've already seen the loss of a number of very high profile [scientific] research type jobs in the county and we need something that is going to bring high value added in," he said.
"[The resort] will be good in terms of creating employment, but are they the sort of jobs entirely of the type we need in Kent?"
The developers said they hoped to be able to open in 2018.