Kent and Sussex Hospital tiles fail to sell at auction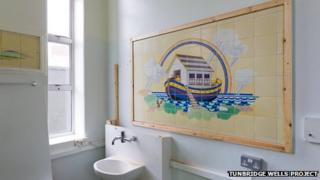 Sets of 1930s tiles from a Kent hospital due for demolition have failed to meet their reserve price at auction.
The tiles, from the Princess Elizabeth children's ward at the Kent and Sussex Hospital in Tunbridge Wells, were expected to sell for up to £52,000.
The art deco pictorial tiles, which have been attributed to Phyllis Butler, were saved by seven restorers working for three months on the project.
The animal-themed panels were still on display when the site closed last year.
Michael MacDonald, a valuer from Antique Vault, said they were "arguably one of the most important set of hospital tiles in the country".
One of the restorers, Richard Gilbertson, said he remembered looking up at them when he was a patient in the hospital.
Painstaking work
A panel depicting Noah's Ark was the only one out of a total of 25 which had been covered up.
The restorers found faults in the tiles and underlying cement as they worked, making the painstaking job even more difficult.
Mr MacDonald said the estimate for the tiles was between £32,000 and £52,000.
"The Noah's Ark panel is being retained by the [Maidstone and Tunbridge Wells NHS] Trust but it is worth considerably more than the others," he said.
The auction was held at Bonhams in London on Tuesday.
Money raised from the auction was to have paid for the conservation project, with any surplus going to the trust.
The site of the hospital was sold to a housing developer, and services moved to the trust's new £230m Tunbridge Wells hospital at Pembury.