Green Party chief threatens legal action over 'Nazi' claim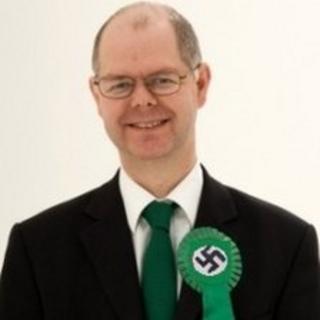 A police commissioner candidate in Kent has been criticised for a "vicious" blog on his website calling Kent Green Party's chairman a "dictatorial Nazi".
Steve Uncles, representing the English Democrats, has refused to remove the comments or the mocked-up picture of Stuart Jeffery wearing a swastika and claimed it was "sparking debate".
He said Mr Jeffery had called his party racist for flying the St George flag.
Mr Jeffery said he was very upset and talking to his lawyers.
His party demanded an "unreserved" apology.
Mr Uncles, from Dartford, is among several people seeking to become Kent's first directly elected police and crime commissioner.
He said: "The Green Party, of course, do advocate a federal Europe, which I think if we do turn the clock back is exactly what Mr Hitler was trying to do."
'Despicable actions'
He said the blog entry on a website he owns called English Passport was in response to Mr Jeffery posting an article urging people not to vote for Mr Uncles and calling his party racist.
Mr Uncles denied he was racist and said: "He (Mr Jeffery) obviously hadn't read our manifesto and he also hadn't done any research into our party, we have put up Sikh and Muslim candidates in the past.
"Because we were flying the cross of St George in a political sense, he just then said we were racists.
"If they want to go around calling people racist, then they can expect similar claims against themselves. It's amusing that they like to dish it out, but they don't like it up them."
Mr Uncles said there were 18 contributors to his website, but refused to disclose who wrote the blog because of "confidentiality".
Mr Jeffery, who was also accused in the blog of taking drugs, said he was considering taking legal action.
The Green Party said the photograph and "vicious" blog was inaccurate and an offence to Mr Jeffery, their party and the democratic process.
"The English Democrats not only defended Mr Uncles' inexplicable and despicable actions, but attempted to justify them," a spokeswoman said.
"We trust Mr Uncles is preparing a full and unreserved apology to the people of Kent, and the UK as a whole, for pretending to know and care about England," a spokeswoman said.
"We trust also that he will withdraw all references to Mr Jeffery in connection with the Nazi Party, not for the offence they cause to him, or to the Green Party, but for the basic contempt in which these references show Mr Uncles holds the people of Kent."
Elections will be held in November to choose police and crime commissioners who will replace police authorities which currently control 41 forces in England and Wales.
PCCs, as they will be known, will be responsible for setting priorities for their police force, overseeing its budget and hiring the chief constable.
A final list of candidates standing will be announced on Friday.