Canterbury City Council seeks further savings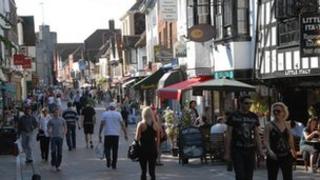 More job cuts could be seen at Canterbury City Council which must find £2.3m in savings in the next financial year, the local authority has said.
The council has published next year's draft budget for consultation.
It said the number of full-time equivalent staff had fallen by 48 over the past three years but more staffing reductions could not be ruled out.
Savings of more than £5m have been found over the past three years, but further savings are needed, it added.
Council leader John Gilbey said the council's government grant had been reduced each year and income from areas such as rent and planning had also fallen.
The draft budget recommends a 1.99% increase in council tax, which is about seven pence a week extra for a Band D property, the council said.
Figures also show increases in some parking charges.
More services will be provided online and the authority will try to provide services from fewer buildings, the council added.
The draft budget can be viewed on the council website.