Tonbridge Castle embankment to be made safe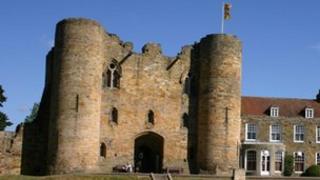 An embankment supporting a Kent castle wall is being secured after it slipped and led to safety fears.
The work at Tonbridge Castle, which dates back to the 11th Century, will see the removal of the upper path, Tonbridge and Malling council said.
Planning director Steve Humphrey said the aim was to reinstate the embankment as a simple earth structure, which is how it would have been built.
Archaeologists are on site in case anything interesting is found, he said.
The work, which started this week and will take about five weeks, is being carried out in conjunction with English Heritage, he added.
After the upper path is removed, people will access the castle grounds by using the lower mote path or the riverbank path, he said.
Mr Humphrey said: "These works are essential to ensure the long-term future of this historic site and of course, the safety of the general public."
The work is being timed to avoid events being held at the castle and also wedding ceremonies, and the castle remains open for tours.
The embankment supports the East Curtain Wall of the castle.