Dover white cliffs alert after 14-hour climb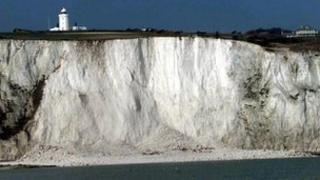 Climbers have been urged to let coastguards know when they plan to scale Dover's white cliffs after two men sparked an emergency.
Dover coastguard sent a lifeboat out after staff at Dover Port spotted climbers' head lamps on the cliffs on Saturday night.
The coastguard said it emerged they had found the ascent harder than expected and had been climbing for 14 hours.
The men did not need rescuing and finished their climb four hours later.
A spokeswoman for Dover coastguard said: "We don't have a problem with people climbing the cliffs as long as they tell us for safety."
She said a coastguard team met the pair after they reached the top and the two men apologised.