Kent PCC Ann Barnes to be 'visual and accessible'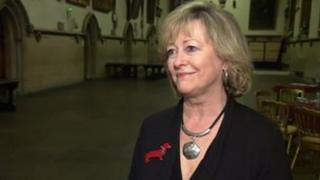 Kent's newly elected police and crime commissioner (PCC) has vowed to be "very visual and very accessible".
Ann Barnes has chaired the Kent Police Authority for the past six years and her new role will now replace it.
"There'll be one person that people can go to. I'll be out in the communities. I won't be deskbound at all," she said.
The Independent candidate, who takes up office on Thursday, defeated Conservative Craig Mackinlay on second preference votes in last week's poll.
Four other candidates were eliminated in the first round of votes.
Ms Barnes will take over responsibility for overseeing Kent Police, appointing and dismissing the chief constable and setting the budget.
'No nonsense'
The East Kent magistrate was one of several independents across the country to become PCCs.
She was also a deputy chairwoman of the National Association of Police Authorities and advised the home secretary on the appointment of senior officers.
In her election statement she pledged to resist further funding cuts, and to ensure victims of crime are kept better informed of the progress of investigations.
Describing herself as "a 'no nonsense', principled woman" who never made promises she did not keep, Ms Barnes said she aimed "to be the most accessible commissioner in the UK".
Speaking to BBC Radio Kent on Monday, she said the commissioner would be "a focal point for policing, and a connection between policing and communities in the county".
"The police authority did always look at what people wanted as their priorities and that will stay the same with me.
"I'm going to be out and about talking to people about their priorities, and listening to them and reflecting that in the policing and crime plan," she said.