Kent PCC Ann Barnes takes oath of impartiality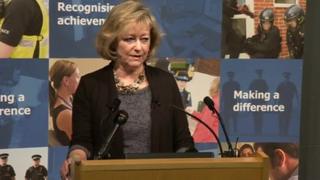 Kent's newly elected police and crime commissioner (PCC) Ann Barnes has been sworn in at a ceremony at the Kent Police College in Maidstone.
The former chair of the Kent Police Authority took office after winning last week's election, standing as an independent candidate.
Ms Barnes swore an oath of impartiality, pledging not to interfere in operational policing.
She has vowed to be the "most visible and accessible PCC in the UK".
Ms Barnes said her main priority was the "families and businesses of Kent".
"It is they and their needs that are paramount," she said. "If they have an issue, or a problem, then that's my important stuff."
'Visible policing'
She plans to introduce a youth commissioner to bridge the gap between the police and young people, a fleet of mobile police stations to serve rural communities, and local policing boards.
She will also be responsible for holding Chief Constable Ian Learmonth to account.
"I think this role will be about relationships, and provided we're both passionate and confident in delivering the policing, I don't think there'll be any confrontations," he said.
Ms Barnes will have a team of 10 to assist her in the role.
She said she would fight any further proposals to cut police funding.
"It's visible community policing that people want, and if you've got more cuts to policing there's nowhere else for it to come from apart from the communities," she said.