War and Peace Show relocating to Folkestone Racecourse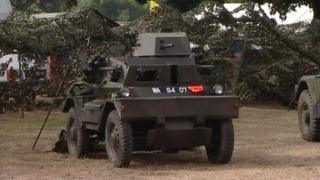 A military show that has been staged at the same location in Kent for 30 years is moving to another site.
From next summer, the annual War and Peace Show will no longer be staged at the Hop Farm in Paddock Wood.
The show, which is the biggest military vehicle and living history event of its kind in the world, will be held at the racecourse in Folkestone.
The five-day event will be held next year from 17 to 21 July, and will be renamed the War and Peace Revival.
Organiser Rex Cadman said: "It had been felt by many for a couple of years that the show was becoming a little staid, so after a summer of considerable thought and discussion... we came to the conclusion that it was time for a new start at a new venue."
He said the facilities at the racecourse were much better and bigger than those at the Hop Farm, and promised "an exciting new show".